Holy moly. Hold on to your socks.This is genius.
Thanks to a great post over at
shutterbean
I made some amazing freezer burritos. They are perfect for a quick lunch or dinner and are super easy to make.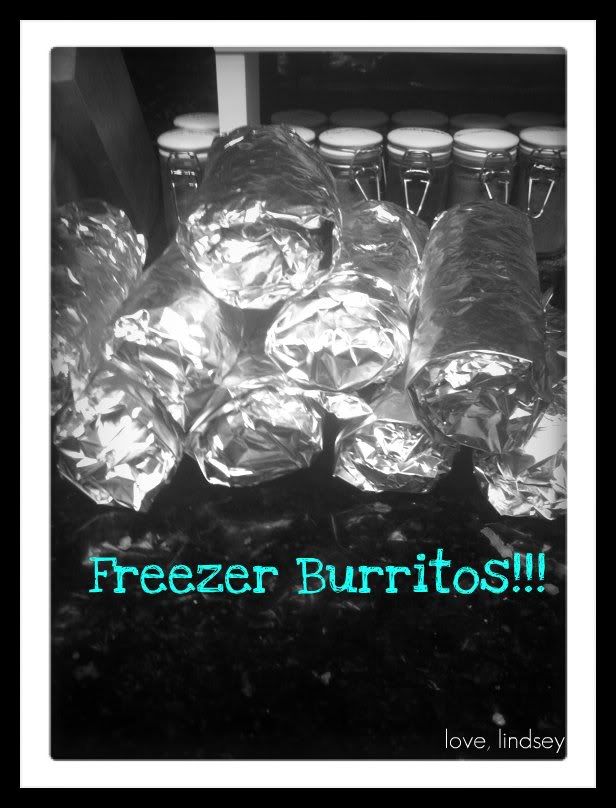 Here's how I made mine:
Ingredients:
10 burrito sized tortillas
2 cans black beans
1 box of spanish/mexican rice mix
1 1/2 cups shredded cheese (whatever you have is fine, I used colby jack)
1/2 cup sour cream
2 tbsp hot sauce (I like taco bell mild sauce :)
aluminum foil
Preparation:
Prepare rice as directed on package. Meanwhile, get yourself ready! Layer pieces of aluminum foil, alternating with one tortilla. This will make the process go much faster. Put the rest of your ingredients in bowls for easy access.
Once the rice is ready, fill up that tortilla with all little bit of each of your ingredients, then wrap it all up so it's closed on both ends. Wrap tightly in foil and freeze!
When you're ready to eat, take one (or two, if you're like my husband), unwrap from foil, wrap in damp paper towel and microwave on high for 3 minutes.